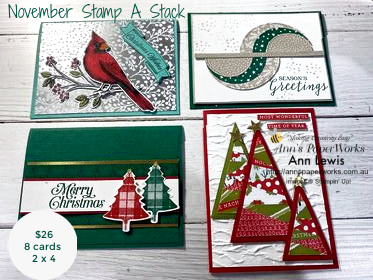 All the news and gossip!
It is sooo good to be back crafting and I am excited to be announcing my second Christmas cardmaking class for 2020. I have been missing in action the last few months due to the impact of COVID-19 – but the good news is I have shifted to the Sunshine Coast. Still lots to do before I completely settle in but I do love my new life even though I miss seeing my Brisbane friends as much.
I have added a number of new events, so add them in your calendar. With more details to still come, check out my classes and events page.
Class Details:
Time: 10 am – 1 pm Saturday 28 November 2020 Location: at my in-home workshop, Kawana Island (Parrearra, Sunshine Coast) Cost: ($26 prepayment required). I have a COVID safety plan in place for all in-person events.
Numbers are limited due to COVID requirements. Required: your basic kit# including Paper Trimmer.
Christmas Cardmaking Projects:
Eight handmade Christmas themed projects (two by four projects). These are fabulous projects to get your Christmas preparations started for those special people in your life. These projects are designed to be fun for both the novice and the experienced stamper. This class features some lovely techniques that are easy to replicate.
It already feels like forever since we last gathered together and I can't wait. So excited.
RSVP by 22 November 2020 so that I can put together a kit just for you. Everyone welcome, bring a friend (who has not attended one of my classes before) and I will have a gift for you. This class is for adults. I have scheduled this class to minimise any traffic concerns if you are travelling and we can grab some lunch just around the corner if you wish.
Prepayment by direct debit. Details provided after RSVP. RSVP via email, messenger or text by 22 November 2020.
Enjoy a day crafting on the beautiful Sunshine Coast!
Upcoming Events:
15 JANUARY 2021 SATURDAY 2021 MINI CATALOGUE & SAB LAUNCH PARTY
5 FEBRUARY 2021 Friday From Picture to Page Creative Class
20 FEBRUARY 2021 TECHNIQUE TEASER CREATIVE CLASS
28 FEBRUARY 2021 SUNDAY Bingo Stampin' Style – virtual online
Product List