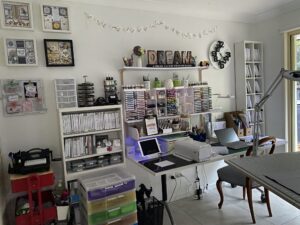 Are you interested in coming to a creative class or event? I host various events, both card-making and memory-keeping, (daytime and night-time events) scheduled locally on the Sunshine Coast. I have also expanded my offerings to include online classes. If you need further information, contact me.
Bring along your basic kit for each class. Don't have what you need? I will have adhesives on hand for purchase. If you need any Stampin' Up! supplies, you can purchase them from my online store or contact me directly.
This is my upcoming Creative Class Calendar in date order – for further details regarding card-making classes and memory-keeping classes, check below.
To RSVP for any of these classes, message/text me or contact me. When you RSVP that you are coming, it is a commitment to attend the event. I will have prepared a class kit just for you. If due to unforeseen circumstances, you are unable to make the event, your kit will be provided (not including postage) to you for the cost of the class. Prepayment for all classes is required.
Testimonial: "All of Ann's classes are amazing and I always enjoy the make 'n' takes for the inspirational ideas." Kirsty 2022
"I have had so much fun in Ann's classes. Ann is patient, funny, and very knowledgeable. She certainly provides everyone with the opportunity to produce the best possible project." Pauline 2023
Date Claimers (scroll down for details):
SUNDAY, 26 NOVEMBER 2023 1 PM – 4 PM, Stepped-Up Christmas Projects
Sunday 10 DECEMBER 2023 Christmas 3-D gifts, tags and packaging Creative Class – details coming
Facebook Live 7 pm Every Wednesday Night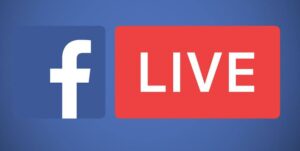 Time: 7 pm every Wednesday night
Location: Facebook
Cost: FREE
Projects: Each week, I showcase three projects demonstrating a technique, product or design. Each LIVE is full of tips, techniques, and all the Stampin' Up! news and special offers. The projects are designed to be fun for both the novice and the experienced stamper. It doesn't matter whether you are a beginner or an experienced stamper, you will love creating the cards I demonstrate.
It is the perfect time to gather together, connect again and build your crafting knowledge and enjoyment. You can ask questions, check out what is trending and just have fun. Join in!
Sunday, 26 November Stepped-Up Christmas Cards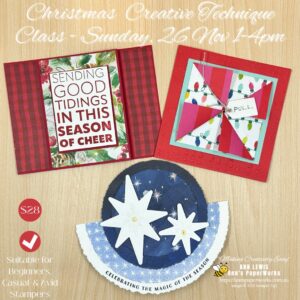 Time: 1-4pm
Location: in-home studio Kawana Island (Parrearra) Sunshine Coast
Cost: $28
Required: Your basic kit including Paper Trimmer. I will have adhesives available for purchase on the day.
Projects: three cards, decorated card inserts and envelopes.
Let's finalise your Christmas cards for this year. This class is perfect for you if you want to step up your Christmas cards, as well as learn some new techniques. Two of these cards have a secret that you will not guess. This is what adds to the mystery of fancy-fold cards.
This is going to be a fun day where you get to spoil yourself whilst creating something for others. This is a boutique class with small numbers and of course, there will be some surprises to add to the day. Everyone is welcome, bring a friend. If you bring a friend who has not attended one of my classes before, I will have a gift for you.
This is the perfect opportunity to get away and have some 'me-time'. Have a beautiful day away on the beautiful Sunshine Coast! Can't wait to have a crafting day with you.
RSVP and prepayment (Direct Debit) by 24 November 2023. Contact Me, or text, messenger, email [email protected]
Stampin' Around the Globe with Christine and Ann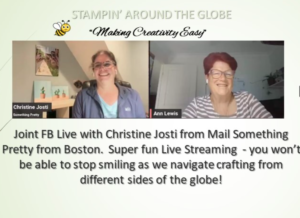 Time: 1-4pm
Virtual Facebook Live
Free Event
Products Featured this month: Meandering Meadows (an online exclusive)
Christine from Mail Something Pretty and I will be getting together again and having some crafting fun – 10 am Brisbane time (last Friday of the month, even though for me it might be the first Friday of the month due to the time difference).
We always have such a good time. This is what crafting is supposed to be about – fun crafting together.
We haven't seen each other's projects, so it is always a surprise. Now we both know it is not a competition, but the friendly rivalry does inspire both of us to be even more creative as we share our passion for crafting and all things Stampin' Up!

And based on your comments, you found it so much fun as well. Here is just one comment from Wanda:
"I watched your FB live with Christine. The cards you both made were both inspiring. And the cardmaking process was very fun and entertaining. I had lots of laughs. The two of you work so well together."
Sunday 10 December 1 pm-4 pm, Christmas 3-D gifts, tags and packaging Creative Class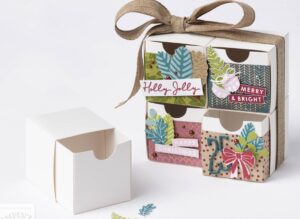 Further details coming soon.