Independent Stampin' Up! Demonstrator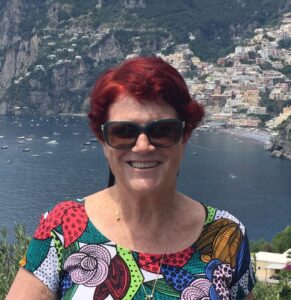 Hi! I'm Ann Lewis, your Independent Stampin' Up! Demonstrator based at Kawana Island on the beautiful Sunshine Coast, Queensland, Australia and small business owner of Ann's PaperWorks. Thanks for stopping by.
I am dedicated to 'making creativity easy' and love helping people discover and share their creativity through cardmaking, stamping, scrapbooking, craft projects and home decor.
Not only do I showcase all the fabulous Stampin' Up! products, I provide outstanding customer support and assistance. You are invited to attend regular classes held on weekends, weekdays, and weeknights. These are a time to relax, chat and 'chill out' while creating; each class includes different techniques, products and design features. And I do all the preparation for you, which makes it all so easy. I also have a website and a business Facebook page featuring projects, FREE tutorials, emerging trends, new products and current promotions. Sign up for my mailing list to stay up-to-date with all the news.
Passionate about Stampin' Up!
You also benefit from my 30 years of paper crafting expertise and experience and will be joining a wonderful community of ladies (and sometimes, gentlemen) who are just like you – passionate about stamping, cardmaking, memory keeping, and paper crafting.
What makes Stampin' Up! special for you? The stamps, inks, paper, accessories and tools all work together to make your creative experience easy and pleasurable. The annual catalogue offers hundreds of quality stamp sets (red rubber and photopolymer), accessories, tools and product ideas – all at your fingertips. Our seasonal catalogues introduce new products throughout the year. You'll find inspirational ideas you can use again and again. Stampin' Up! products are sold globally through a network of Independent Demonstrators and are not available in stores.
Have a crafting problem? I am here to help – I even have an online chat facility (see bottom right corner).
Want to know more:
I grew up in Toowoomba but moved to Brisbane to start working with the Queensland Government. I have worked in most parts of the state until I decided to make a career change. As I had been crafting since I was very young, it was a natural progression for me to join Stampin' Up! as an Independent Demonstrator. It was the perfect fit for me as it meant I could be creative while supplementing my income and still working flexible hours. Originally, I started as a hobby demonstrator but have since focused more on classes, workshops, kits, my blog and tutorials.
I have been fortunate enough to be able to share my paper crafting passion with others. I lead a team of demonstrators called the Crafty Paper Bees. Team members are from around Australia. Supporting my downline through training, meetings, sharing of ideas, joint events and so much more is very important to me. As a team, we participate in fundraising for worthwhile causes (for example, cancer research). I am currently actively recruiting to share this fabulous opportunity.
Kind thoughts:
I went to the evening class. I enjoyed it immensely and it was a delightful class where everybody was friendly and patient with me because I do things at a slow pace. Huge thanks to Ann for being such a great teacher and the cards turned out beautiful; can't wait for another class! L.T. 18/1/16
And thank you for the wonderful class yesterday. I had come across the techniques you taught us but had never tried them. I am so pleased to be able to add them to my card making arsenal after you showed us how to do it with such ease and fun. With appreciation, W.S. 20/4/15
Let me say how much your friendship and thoughtfulness is appreciated. I always look forward to having my "Ann" fix, be it crafting or just being around your happy self (oh, and that also includes Oscar). You are always so enthusiastic and happy to share, be it crafting ideas, recipes or plant cuttings ….. all of which are very much appreciated. K. L. 28/10/14
To love what we do, and share what we love, as we help others enjoy creativity and worthwhile accomplishments…in this we make a difference! Statement of the Heart – Stampin' Up!