2023 Stampin' Up! Mini Catalogue (January – April) Product Shares – First round closes on 16 January 2023.
Designer Series Paper Shares are just perfect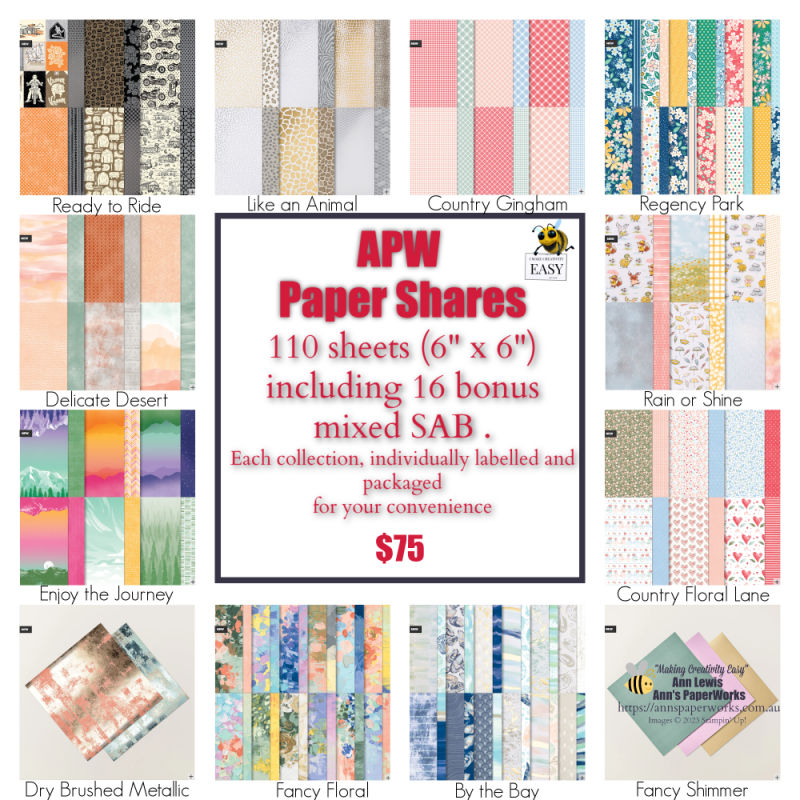 Just released! Want just enough but not too much Designer Series Paper?
Are you like me and absolutely love Stampin' Up!'s Designer Series Papers (DSP)? I have to confess I get excited by all the new papers, ribbons and embellishments that come with each catalogue release. I am even more excited when my order arrives and there they all are – these gorgeous papers and goodies in Stampin' Up! colours that all coordinate with our Stampin' Write Markers, Stampin' Blends, cardstock, inks and watercolour pencils. It makes them all so easy to use and when it is easy you actually use your product stash.
To make it even easier this year, I am releasing my 2023 Mini Catalogue (January-April) Designer Series Product Shares. I am thrilled I am able to put this all together for you. These product shares are only available to those who live in Australia. You are invited to participate in these shares whether you are a demonstrator, a customer of mine or a fellow crafter.
What is a Stampin' Up! Designer Series Paper Share?
Each new catalogue is full of new products which coordinate and work together to create amazing projects. And to make it even easier, the catalogues are really ideas books, full inspiration just for you. If you purchased everything in a new catalogue, it would cost a lot of 'mulla' a.k.a. money. So to make it all more accessible, I am collating product shares, including paper shares, where I put together a 1/4 package of each of the Designer Series Papers, which substantially reduces the cost to you and you get to enjoy a little bit of everything.
Each share will consist of one sheet of every pattern (Each sheet will be 6″ x 6"). The paper pack will be labelled with the DSP name and the coordinating colours, which makes it so much easier for you when you are designing projects.
What is in each Paper Share?
Each of these is a quarter pack (6″ x 6″ or 15.2 x 15.2cm): 12 sheets x By the Bay Specialty DSP; 12 sheets x Country Floral Lane DSP; 12 sheets x Country Gingham DSP; 12 sheets x Delicate Desert DSP; 12 sheets x Enjoy the Journey DSP; 12 sheets x Fancy Flora DSP; 12 sheets x Like An Animal Specialty DSP; 12 sheets x Rain or Shine Specialty DSP; and 12 sheets Ready to Ride Specialty DSP.
Plus two sheets, one of each colour (6 x 6″) of Dry Brushed Metallic Specialty DSP; three sheets, one of each colour (6 x 6″) Fine Shimmer Paper Pack. You will also receive a mixed BONUS pack of the Sale-a-Bration Designer Series Papers collections – 16 sheets (Dainty Flowers DSP Day at the Farm DSP; Favored Flowers DSP; and Dandy Designs DSP). I have not included the Flowers & More DSP (host), Textured Shimmer Paper or the Vellum Basics Specialty DSP in this share. In each share, there are 110 sheets of beautiful Designer Series Papers (104 of these are double-sided) – 6″ x 6″/15.2cm x 15.2cm.
SHARE 1 PAPER SHARE $75
Pickup for FREE from the Parrearra Sunshine Coast. Postage for Paper Shares in Small Tracked Satchel $9.95 (updated). The Ribbon and Embellishment Shares can be included in this postage if purchased at the same time.
Interested in Ribbons and Embellishments from the 2023 Mini Catalogue?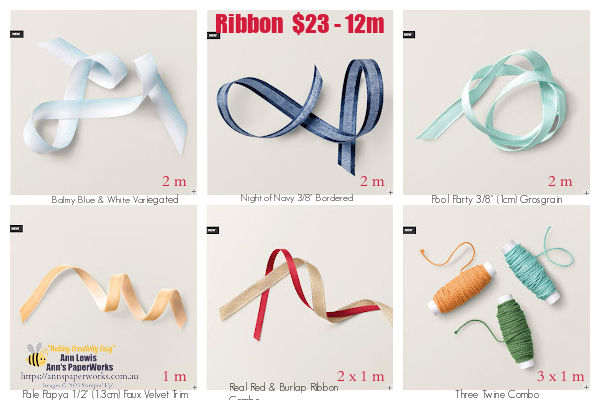 I know you already know how gorgeous Stampin' Up! ribbons and embellishments are. They are divine. And they are just one of the ways to take your projects from 'blah' to fabulous. And I have included them as separate product shares this year.
Twelve metres of Stampin' Up! ribbon and twine for only $23 (SHARE 2) and/or 377 pieces from the Stampin' Up! embellishment collection for only $40 (SHARE 3). CORRECTION: the Pale Palaya Faux Velvet 1/4 pack is only 1 metre.
FREE pickup from the Parrearra Sunshine Coast. Postage for either Ribbon or Embellishment Share or combined in Small Tracked Satchel $9.95 (Updated). Payment by Direct Debit.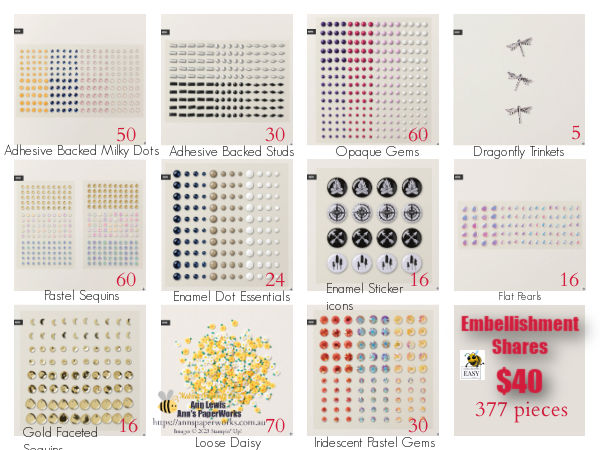 Why do you need to be in a product share?
Product shares give you the advantage of having a little bit of everything at a fraction of the cost. This gives you access to most embellishments, ribbons and papers. All this means that you use what you purchase and there is less wastage. It gives you the opportunity to try the products. If you fall in love, of course, you can purchase the entire pack or set or spool from my online store.
How to order and pay for your product shares?
Click here now to place order your Stampin' Up! Product Shares. Send the completed form to [email protected]. The first round closes on 16 January 2023. To order your product shares, click here.
Do you live in Australia? Would like me to be your demonstrator? Don't yet have your copy of the 2023 Mini Catalogue? Contact me to arrange your catalogue.