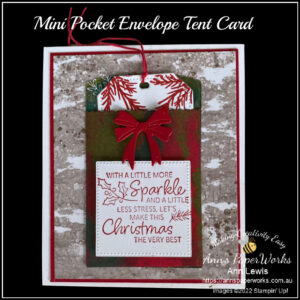 How to turn the Mini Pocket Envelope Dies by Stampin' Up! into a Tent Card
As you probably guessed by now, I create lots of handmade cards – some turn into favourites and others don't make 'my heart sing'. But this one does make my heart sing. I always get excited when I come up with an idea which uses our products differently. These dies were designed primarily for gift tags, money, chocolates etc but they are so much more versatile than that. They are super easy to use (hence why I love them).
Can I use these dies for other projects?
Now whilst I made a card today, I also intend to use these dies to create lots of little pocket envelopes to place on a Christmas Tree and also to use as table gifts. They are the perfect size for the square Lindt chocolates as well as gift cards. And the dies come with an amazing bow which can be used on so many projects. But I did swap out the bow on this card with the Country Wreaths Die.
I used the Tailor Made Tags Die for the tag insert which also contains the sentiment. Do not be fooled, this is a quick & easy project suitable for both the beginner and avid crafter. I picked the Boughs of Holly Designer Series Paper as it is my favourite traditional Christmas patterned paper this season.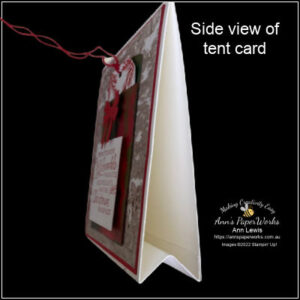 Details of the Mini Pocket Envelope Tent Card
Basic White Thick C/S 4-1/8″ x 11-5/8″ (A4 sheet cut in half lengthways) scored at 5″ 10″, 10-5/8″, 11-1/4″;
10.5cm x 29.7cm scored at 12.7cm, 25.4 cm, 27cm, 28.6 cm;
Real Red C/S 3-7/8″ x 4-3/4″ (13.3cm x 9.7cm) plus scrap piece for bow;
Boughs of Holly DSP card layer 3-3/4″ x 4-5/8″ (9.5cm x 13cm); Boughs of Holly DSP for pocket envelope 6″ x 6″ (15.2cm square);
Basic White C/S 6″ x 6″ (15.2cm square);
Real Red Twine (you can colour your White Twine with a blender pen or use your leftover twine from the Christmas Gifting Kit.
Check out how to make your version of this card here Mini Pocket Envelope Tent Card Facebook Live Tutorial. Also included in this Facebook Live are two bonus projects also featuring the Mini Pocket Envelope Dies.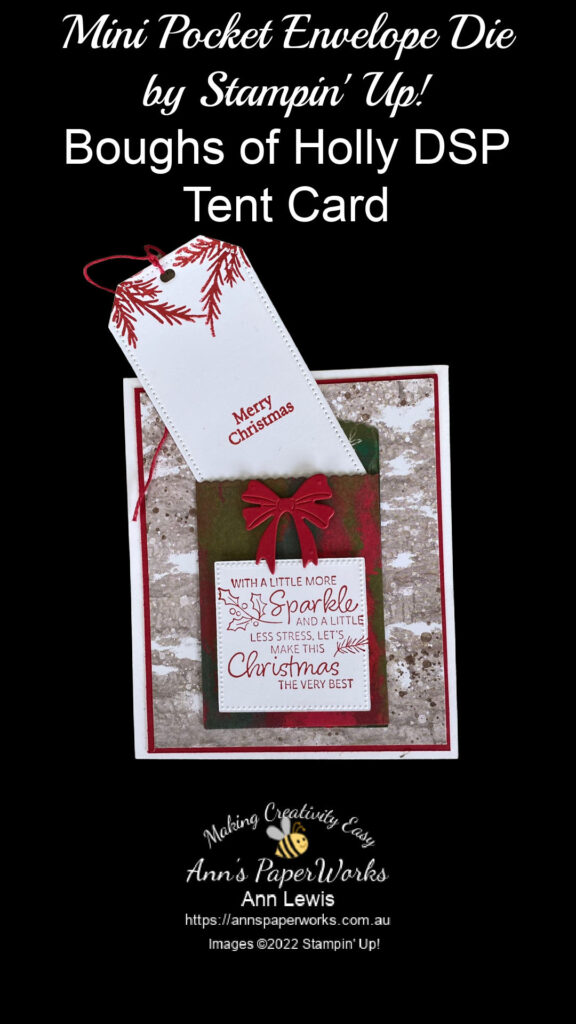 Monday Night Facebook Live 7 pm Brisbane time
29-30th October 2022 Crafty Paper Bees Retreat – Sunshine Coast;
Saturday 19 November 2022 Christmas Stamp A Stack – Sunshine Coast;
Sunday 20 November 2022 Christmas Stamp A Stack – Sunshine Coast.
If you need any help or have any questions, do not hesitate to contact me.
For further information about the products used in this project, click the items below to view my Online Store. I would love to be your Demonstrator if you don't already have one and live in Australia. You can purchase these products from my online shop or you can order directly from me and have them shipped directly to your home. If you are shopping online and your order is under $250, please use the current Host Code B7RSGBNB, which can always be found on the right-hand sidebar of my blog. Your support in reading this blog, using a Host Code, commenting here and on my Facebook page, leaving reviews and purchasing from my online store all contribute to 'making creativity easy' for you.
Stampin' Up! Product List