First Frost Handmade Card with Watercolour Background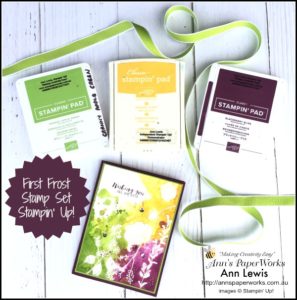 Woohoo! It is an absolutely beautiful day in Brisbane today.  Temperature perfect and all is good, especially after some much-needed rain.  But I had better get back to the business of crafting which is why you are probably here.  Often when I am designing projects with no real plan in place, I go to the stamp sets that I have yet to use, which I did on this occasion.   And there, sitting on my shelf – a virgin stamp set – and it was one of my favourites from the new catalogue (p.37 of the Christmas Catalogue)- First Frost Stamp Set.  Whilst I didn't use the bundle for this card, I love that there are co-ordinating Framelits to die cut these images.
This project is part of the Global Stampers Challenge.  This month was a colour challenge which I always struggle with – the colours to be featured were Granny Apple Green (an absolute favourite), Crushed Curry and Blackberry Bliss.  Now these colours for me are a little wintery, not reflecting the beautiful spring weather that I am currently experiencing.  So I thought a little bit of innovation was required to bring a little spring to this project.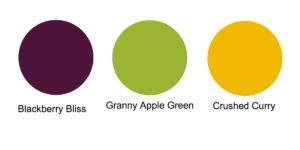 Don't forget to visit my demonstrator friends from New Zealand, United Kingdom and New Zealand to see their fabulous projects.  Links are below.
First Frost Stamp Set – Project Details: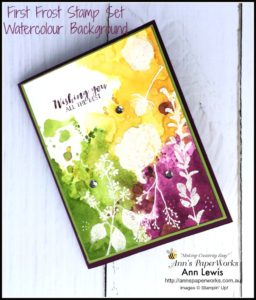 Whilst the card might look a little complex, it really is an easy project.  The first step was to stamp the images from the First Frost Stamp Set in Versamark Ink and then heat emboss using Whisper White Stampin' Emboss Powder.  As it was a watercolour technique, I used Stampin' Up!'s Shimmery White cardstock for the background.  I could have used Watercolour Paper as an alternative but I love the shine and sparkle of the Shimmery White cardstock.
On a silicon mat (any craft mat will do), I tapped some ink from the three ink pads, keeping the colours separate – Granny Apple Green, Crushed Curry and Blackberry Bliss.  I spritzed with water to activate the inks.  Working to keep the colours separate on my project, I smooshed the Shimmery White cardstock progressively into each colour, drying each layer and colour.  The secret to this technique is drying between each step which means you build that fabulous texture and depth of colour without any 'muddying' of the colours.
I added some bling as you can never have too much bling, now can you.  And simply decorated the inside of the card.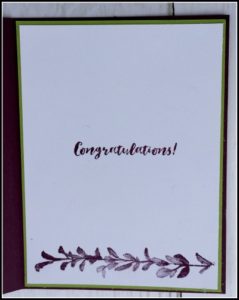 Global Stampers Blog Hop Challenge
You are currently visiting me, Ann Lewis, so if you hopped forward to here from Alicia, back here from Fiona or are just starting here, welcome.
You will be able to hop around all the blogs by clicking on the links below.  I hope you enjoy our projects and please feel free to leave a comment before you hop onto Fiona.  Looking for Stampin' Up! products and don't live in Australia, check out the online store for the Stampin' Up! demonstrator in your market.
Stampin' Up! Product List
For further information about the products used in this project, click on the items below to view in my Online Store.  I would love to be your Demonstrator if you don't already have one and live in Australia.  You can purchase these products from my online shop or you can order directly from me and have them shipped directly to your address.  Please allow Demonstrator contact when ordering online so I can thank you properly.  Stamp sets used in this project may be available in other mount options (wood-mount, clear-mount or photopolymer). I have listed the option that I used.  If you are shopping online and your order is under $250, please use current Host Code P9QWPK24 which can always be found on the right sidebar of my blog.
Don't forget to check the delightful First Frost Stamp Set.  If you have any questions about this project, don't hesitate to contact me.
Happy Crafting